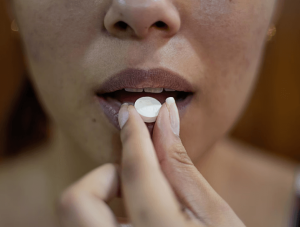 If you are facing an unexpected pregnancy and are considering an abortion, the more information you have about the process and side effects, the more confidently you can make your decision.
Read the rest of the article to know how the abortion pill works, its side effects, and what steps you should take before getting an abortion to protect your health.
How Does A Medical Abortion Work?
Medication or medical abortion can be prescribed up to 10 weeks (70 days) gestation. The first drug you take is mifepristone. This drug is an antiprogestin, which prevents your progesterone levels from increasing and stops the pregnancy.
24-48 hours later, misoprostol, the second drug, is taken. This second pill will force your uterus to contract to expel the fetal tissue. 
What are the Risks of a Medical Abortion?
This option can be conducted in the privacy and comfort of your own home, but it's important to make sure that you have access to emergency medical care.

According to Mayo Clinic, you can expect vaginal bleeding and cramp from the abortion medication. They may also cause:
Nausea
Vomiting
Fever
Chills
Diarrhea
Headache
Tell your doctor if any of the following symptoms are severe or do not go away: vaginal bleeding or spotting; cramps; pelvic pain; vaginal burning, itching, or discharge; headache; tiredness; difficulty falling asleep or staying asleep; anxiety; and/or back or leg pain. 
Contact your doctor or seek emergency medical care if you experience any unusual symptoms.
Confirm Pregnancy Viability
In order to be eligible for a medication abortion, you'll need to confirm your pregnancy. At Sage Women's Center, we offer no charge pregnancy testing and ultrasounds, which will confirm the gestational age, and viability of the pregnancy, and may identify health complications such as an ectopic pregnancy.  Contact us today!